Contributors: Andrew Walker, Bruce Ensrud, Matt Stockman
PORTFOLIO MANAGEMENT UPDATES
Our Q2 2022 Market Commentary explored the contributing factors to this year's volatile markets. In essence, The Federal Reserve (the "Fed") began raising interest rates to combat the inflationary forces that originated from COVID-era excessive stimulus and supply chain issues. Because higher interest rates result in lower equity valuations, the Fed's increasingly hawkish stance against inflation caused the market to steadily reprice downwards throughout the first half of the year.
Going forward, it appears as though central banks in the US and abroad are determined to bring down inflation, even if that means economic growth taking a hit. The uncertainty that this scenario presents, along with concerns related to overly optimistic market expectations for corporate earnings, has moved us to shore up risk in portfolios. These changes are summarized below:
Rebalance to Strategic Targets
In times of heightened uncertainty like we are seeing today, it is prudent to make fewer active decisions in portfolios. Therefore, we rebalanced portfolios back to long-term strategic weightings between stocks and bonds.
Increase US Large Cap; Decrease US Small Cap
In times of rising uncertainty and volatility, where inflation and access to debt capital threaten corporate profits, bigger companies have shown themselves to be more resilient given the economies of scale that their size provides.
Enhance Downside Protection / Reduce Portfolio Volatility
The liquidity that the Fed has artificially distorted markets with since the 2008/2009 Great Financial Crisis had an effect of suppressing market volatility. With the Fed attempting to reverse its easy-money policy, we expect markets to be more volatile going forward. To reflect this, introduced a trend following fund to portfolios. The fund uses quantitative signals to determine when (not how) to be invested in the market such that, over time, we anticipate this allocation will lower overall portfolio volatility – especially in down markets.
International Diversification
Valuations internationally remain very attractive versus those in the US. The economic slowdown unfolding in Europe – caused in part by its dependence on Russia for energy – warrants caution. Considering this, we have reduced our portfolio exposure to Europe. In addition, we believe that COVID accelerated the beginning of many different deglobalization trends, which is supportive of the continuation of the new inflationary regime that we find ourselves in today. With this in mind, we have added to our international value exposure in portfolios, as this area of the market should be more resilient in this inflationary environment.
Reduce Credit Risk in Bonds
Thanks to fiscal and monetary stimulus, markets and the economy have been very strong for the past few years. One area that has held up surprisingly well is corporate debt. Despite the harsh lockdowns experienced over the last few years, very few issuers defaulted on their loans. This, of course, is thanks to enormous stimulus supporting them and the economy. With this stimulus on the way out, the number of defaults is likely to rise. While we are already strongly biased towards high quality bonds in our portfolios, we have found it prudent to continue to increase our allocation towards high quality bonds.
Beyond the above changes, we also took advantage of a few opportunities to increase our use of low-cost passive index funds within US Equity allocations, to drive down overall portfolio costs.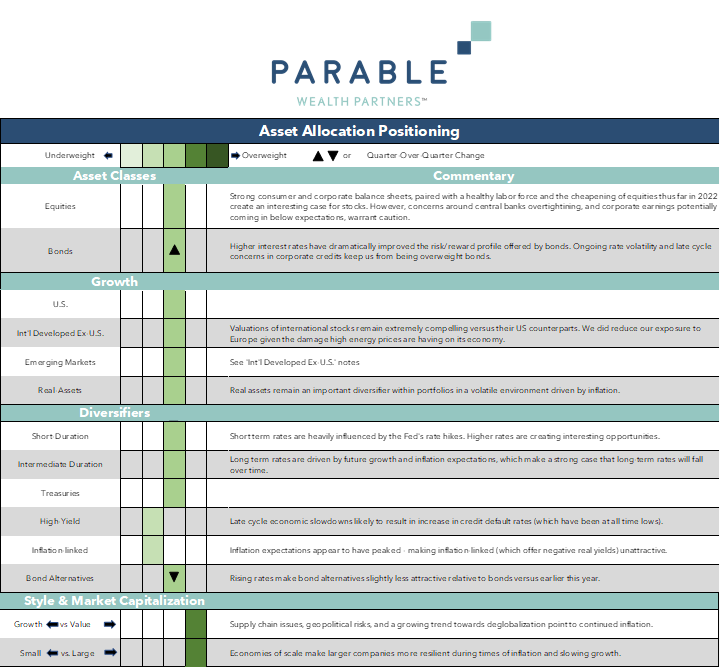 Thank you for allowing us to partner with you as we navigate the ever-changing market. We appreciate your continued trust.

If you have questions or would like to dive deeper into this quarter's outlook, please reach out to our investment team. We'd be happy to set up a virtual coffee to talk more.

Parable Wealth
---
Advisory Persons of Thrivent provide advisory services under a practice name or "doing business as" name or may have their own legal business entities. However, advisory services are engaged exclusively through Thrivent Advisor Network, LLC, a registered investment adviser. Parable Wealth Partners and Thrivent Advisor Network, LLC are not affiliated companies. Information in this message is for the intended recipient[s] only. Please visit our website parablewealth.com for important disclosures.
Different types of investments involve varying degrees of risk. Therefore, it should not be assumed that future performance of any specific investment or investment strategy will be profitable.
Asset allocation may be used in an effort to manage risk and enhance returns. It does not, however, guarantee a profit or protect against loss. Performance of the asset allocation strategies depends on the underlying investments.
This communication may include forward looking statements. Specific forward-looking statements can be identified by the fact that they do not relate strictly to historical or current facts and include, without limitation, words such as "may," "will," "expects," "believes," "anticipates," "plans," "estimates,"
"projects," "targets," "forecasts," "seeks," "could'" or the negative of such terms or other variations on such terms or comparable terminology. These statements are not guarantees of future performance and involve risks, uncertainties, assumptions and other factors that are difficult to predict and that could cause actual results to differ materially.
This website is intended to provide general information about Parable Wealth Partners and its services. It is not intended to offer or deliver investment advice in any way. Information regarding investment services is provided solely to gain an understanding of our investment philosophy, our strategies and to be able to contact us for further information.
Market data, articles and other content on this website are based on generally available information and are believed to be reliable. We do not guarantee the accuracy of the information contained on this website. The information is of a general nature and should not be construed as investment advice. Please remember that it remains your responsibility to advise Parable Wealth Partners, in writing, if there are any changes in your personal/financial situation or investment objectives for the purpose of reviewing/evaluating/revising our previous recommendations and/or services, if you would like to impose, add, or to modify any reasonable restrictions to our investment advisory services.
We will provide all prospective clients with a copy of our current Form ADV, Part 2A ("Disclosure Brochure") and the Brochure Supplement for each advisory person supporting a particular client. You may obtain a copy of these disclosures on the SEC website at http://adviserinfo.sec.gov or you may Contact us at team@parablewealth.com to request a free copy via .pdf or hardcopy.
Any specific securities identified and described do not represent all of the securities purchased, sold, or recommended for advisory clients. The reader should not assume that investments in the securities identified and discussed were or will be profitable. A summary description of the principal risks of investing in a particular model is available upon request. There can be no assurance that a model will achieve its investment objectives. Investment strategies employed by the advisor in selecting investments for the model portfolio may not result in an increase in the value of your investment or in overall performance equal to other investments. The model portfolio's investment objectives may be changed at any time without prior notice. Portfolio allocations are based on a model portfolio, which may not be suitable for all investors. Clients should also consider the transactions costs and/or tax consequences that might result from rebalancing a model portfolio. Frequent rebalancing may incur additional costs and/or tax consequences versus less rebalancing. Please notify us if there have been any changes to your financial situation or your investment objectives, or if you would like to place or modify any reasonable restrictions on the management of your account.